Johnny Liberty, Editor's Note: While it's true both Russia and China have their own agendas so does the Unites States. The coronavirus has taken the world by storm, with nation states unprepared for the consequences of such a globally disruptive event. Whether the coronavirus was engineered in a bioweapons laboratory and accidentally released is of less consequence than the social and economic blowback which will be felt worldwide. If the truth ever be told (which unlikely it ever will be), unscrupulous propaganda agents from any country are not serving the best interests of humanity to protect themselves against the onslaught of this lethal virus. 
By Eva Fu
U.S. adversaries such as Russia and China are propagating false information about the novel coronavirus outbreak amid a global public health crisis, according to a top State Department official tasked with countering foreign propaganda threats.
"The coronavirus is an example of where we've seen adversaries take advantage of a health crisis where people are terrified worldwide—to try to advance their priorities," Lea Gabrielle, who leads the Global Engagement Center at the State Department, said during a Senate hearing on March 5.
While both countries' propaganda malign and undermine free societies, the intent and the style of their state-directed campaigns differ greatly, according to Gabrielle.
"One of the best practices in countering propaganda and disinformation is exposing it," she said.
Moscow
The Kremlin has put "the entire ecosystem of Russia disinformation at play," including state proxy websites, state media, and "swarms of online false personas pushing out false narratives," she explained.
While the aim of restoring its image as a global superpower, Moscow "seeks to weaken its adversaries by manipulating the information environment in nefarious ways, polarizing domestic political conversations, and attempting to destroy the public's faith in good governance, independent media, and democratic principles," Gabrielle said.
In February, senior State Department official Philip Reeker accused Russia of engaging thousands of social media accounts to promote unfounded conspiracy theories, such as the claim that the United States developed the virus as a biological weapon to "wage economic war" on China.
"By spreading disinformation about coronavirus, Russian malign actors are once again choosing to threaten public safety by distracting from the global health response," Reeker told Agence France Presse at the time.
The lies, Gabrielle said, are a convenient tool for the Kremlin to distract the public. By creating and discrediting a fictitious "enemy"—the West—the Russian government could justify its existing political system and shift its internal troubles away from the international spotlight. In doing so, the Kremlin also "seeks to nurture the most extreme or divisive elements of society," she said.
Beijing
Unlike Russia, which "seeks to chaotically disrupt the current world order to accomplish its goals, the CCP [Chinese Communist Party] seeks to deliberately shape it to Beijing's advantage," according to Gabrielle.
Beijing's attempts to censor "the sheer extent of this global public health crisis" have brought such CCP goals into full display: from downplaying death toll numbers, stifling critics, to silencing whistleblowers who raised red flags about the virus during the outbreak's early stages, she said.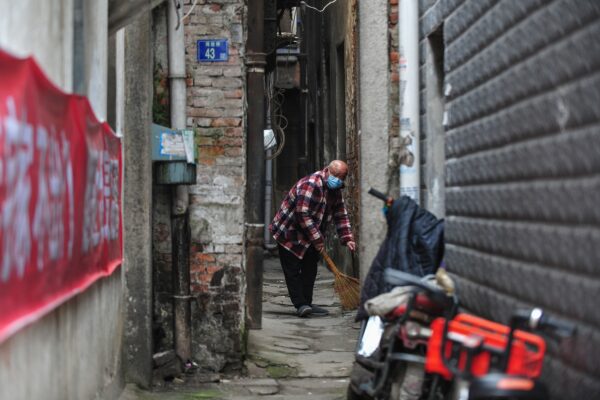 Chinese doctor Li Wenliang, among the first to raise attention about a "SARS-like" outbreak on social media, was accused of rumor-mongering. He later died of the virus, after contracting it from a patient he was treating. Three citizen journalists, Fang Bin, Chen Qiushi, and Li Zehua, were recently arrested while documenting the outbreak in Wuhan.
Chinese messaging app WeChat and video streaming app YY have been using keywords to censor social media posts with virus-related terms—likely due to "official guidance," according to a new report by Canadian cyber research group Citizen Lab.
Such state-sanctioned efforts "underscore Beijing's sensitivity to being portrayed as anything other than a responsible actor at home and abroad," Gabrielle said.
On March 5, the U.S. Senate unanimously passed a resolution to honor Li. Sen. Tom Cotton (R-Ark.) said the doctor was "victimized by his own government, the Chinese Communist Party."
'Whole-of-Government' Campaign
Beijing's propaganda operatives are comprehensive, deploying a "whole-of-government approach": political, economic, military, and information tools are used to push the regime's narrative domestically and globally, Gabrielle said.
More recently, the Chinese regime has walked back its initial claims that the virus came from a live animal and seafood market in Wuhan. Zhao Lijian, a spokesperson for the country's foreign ministry, said on March 5 that "it is yet undetermined where the virus originated," stressing that Beijing has been "widely acclaimed" for its "signature strength, efficiency, and speed."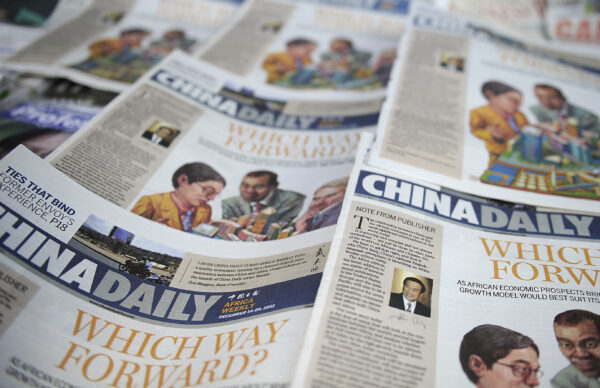 In recent days, Chinese state media have spread the false claim that the virus originated in the United States.
State outlets also published a series of articles bolstering China's response to the outbreak. One March 5 article in China Daily, for example, said the government's fight against the virus was "a story of pride."
Pushing back on Beijing's claims about the virus's country of origin, U.S. State Secretary Mike Pompeo noted that the CCP itself had said "it came from Wuhan."
"We have pretty high confidence that we know where this began [i.e. China], and we have high confidence too that there was information that could have been made available more quickly and data that could have been provided and shared among health professionals across the world," he told CNBC on March 6.
"It's most unfortunate," he added.
Source: The Epoch Times