Editor's Note: Protests, rioting and looting across the USA occurred primarily in the following cities: Minneapolis, MN, Los Angeles, CA, New York, NY, Philadelphia, PA, Nashville, TN, San Francisco, CA, Detroit. MI, Portland, OR, Memphis, TN, Chicago, IL, Atlanta, GA, Washington, DC, Madison WI, Denver, CO, Santa Monica, CA, San Diego, CA (Republican), Boston, MA, Miami, FL (Republican), Oklahoma City, OK (Republican), Scottsdale, AZ (Republican), Windemere, FL, Albuquerque, NM, Sioux City, SD (Republican), Fontana, CA (Republican), Columbus, OH, Houston, TX, Phoenix, AZ, Louisville, KY, Davenport, IA, Jacksonville, FL (Republican), St. Louis, MO, Las Vegas, NV, and Oakland, CA. All but the seven noted had Democrat Mayors. 
The death of George Floyd, an unarmed black man who died in police custody after a white officer kneeled on his neck for more than 8 minutes, has sparked widespread violent protests in dozens of American cities.
Floyd, 46, was pronounced dead Monday night after he was pinned to the ground under the knee of Minneapolis police officer Derek Chauvin, who is white. In a video recorded by a bystander, Floyd is heard saying he could not breathe.
Four police officers – Chauvin, Tomas Lane, Tou Thao, and J. Alexander Kueng – were fired from the force Tuesday. Chauvin was arrested Friday and charged with murder in the third degree.
In the days since his death, unrest in every corner of the country left charred and shattered landscapes in dozens of American cities. Here is a list of some of the cities where protests have erupted:
Minneapolis, Minn.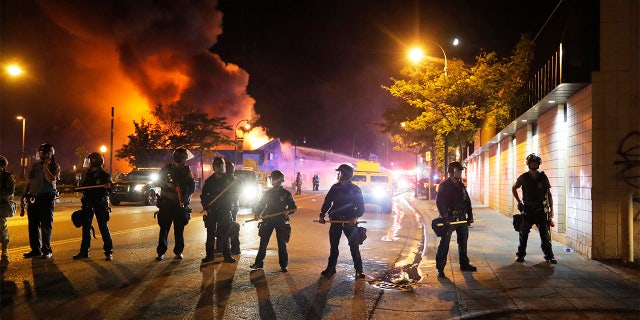 Minneapolis has been the epicenter of protests since the death on Memorial Day of Floyd after a police officer pressed his knee on Floyd's neck for several minutes. The protests have spread to cities across the United States.
Peaceful protests broke out a day after Floyd's death. The demonstrations quickly escalated to outright violence and looting. For several days after, city residents woke up to fires still burning from the violent protests.
The building of the Minneapolis Police's 3rd Precinct was overtaken by protesters and burned down by the end of the week.
Be Saturday, protesters were seen defying curfew orders issued by Frey as firefighters sought to put out several business fires after the fourth night of unrest. The curfew lasts from 8 p.m. until 6 a.m. and any violation of it could lead to a misdemeanor charge, which entails 90 days in jail and a $1,000 fine.
Gov. Tim Walz, who authorized the "full mobilization" of the state's National Guard, said it's the largest civilian deployment in the state's history. He said it was three times the size of what was in place during the race riots of the 1960s.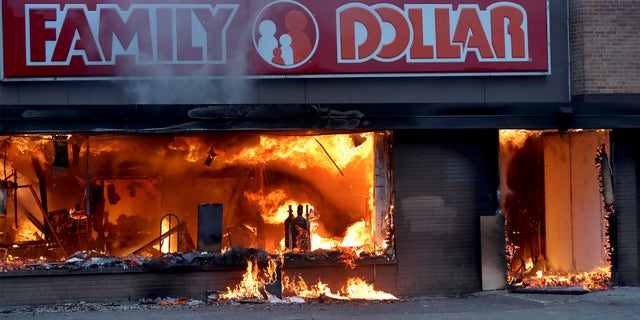 The Pentagon has been ordered to prepare troops to be sent to the Twin Cities, a move said to be rare in nature.
"This is no longer about protesting," Frey said Saturday. "This is about violence and we need to make sure that it stops."
After the fifth day of protests, police said early Sunday they succeeded in stopping violent protests that ravaged parts of the city for several days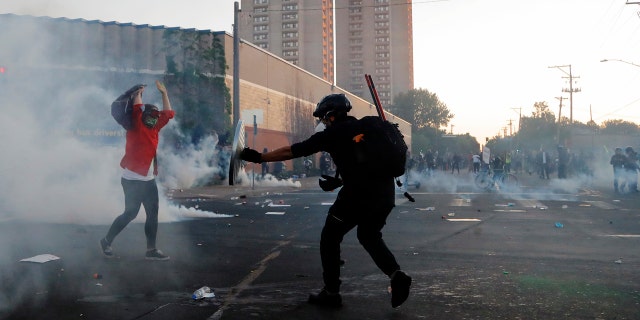 Police, state troopers and National Guard members moved in to break up protests after an 8 p.m. curfew took effect, firing tear gas and rubber bullets to clear streets outside the city police's 5th Precinct and elsewhere. The show of force came after three days where police mostly declined to engage with protesters.
The tougher tactics also came after the state poured in more than 4,000 National Guard members and said the number would soon rise to nearly 11,000. Dozens of people were arrested as of Sunday morning, FOX9 reported.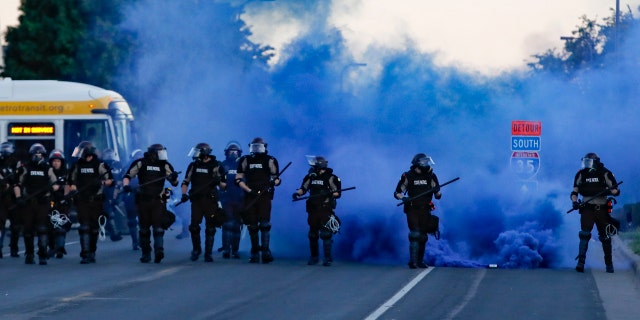 As Minneapolis streets appeared largely quiet, Corrections Commissioner Paul Schnell said the heavy response would remain as long as it takes to "quell this situation."
The tougher tactics came after city and state leaders were criticized for not more strongly confronting violent and damaging protests.
Authorities made a new round of arrests on Sunday night as they worked to enforce the curfew, FOX9 reported.
Hours earlier, a semitrailer sped toward a crowd of people protesting on an interstate bridge in a harrowing series of events, forcing the protesters to run for safety.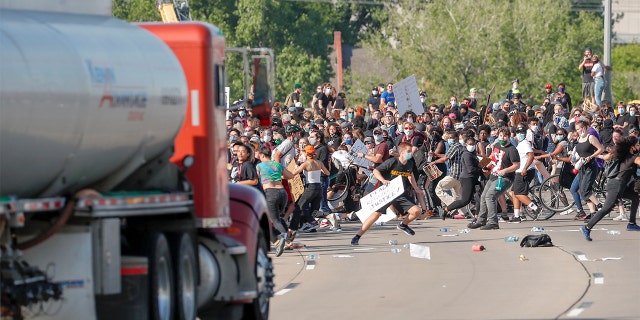 The driver was later identified by the Hennepin County Sheriff's Office as Bogdan Vechirko, according to Fox 9. Police said he's being held on suspicion of assault.
Los Angeles, Calif.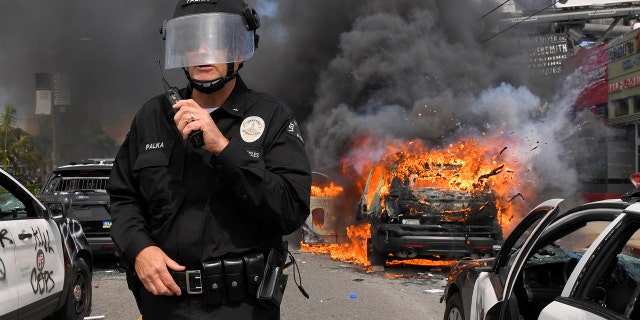 Protests in Los Angeles began two days after Floyd's death, with dozens temporarily blocking Highway 101. The demonstrations turned violent in the days after and lasted through the weekend.
On Saturday morning, police worked to disperse crowds in downtown Los Angeles as multiple businesses were looted. Hundreds were reportedly arrested, and at least five police officers were injured, multiple media outlets reported.
By later in the day, Los Angeles Mayor Eric Garcetti imposed a rare citywide curfew and called in the National Guard after demonstrators clashed repeatedly with officers, torched police vehicles, and pillaged businesses in a popular shopping district.
Garcetti said Saturday he asked Gov. Gavin Newsom for 500 to 700 members of the Guard to assist the 10,000 Los Angeles Police Department officers.
Garcetti said the soldiers would be deployed "to support our local response to maintain peace and safety on the streets of our city."
Firefighters responded to dozens of fires, and scores of businesses were damaged.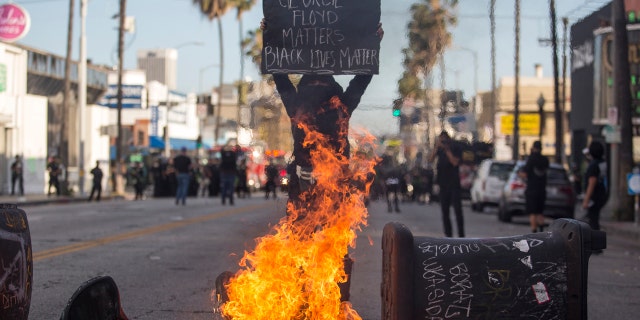 "If you're in pain, I feel that pain. If you're angry, I get it. But this has moved from a being a protest, to vandalism to destruction, and nobody should be out there making a mistake," Garcetti told FOX11.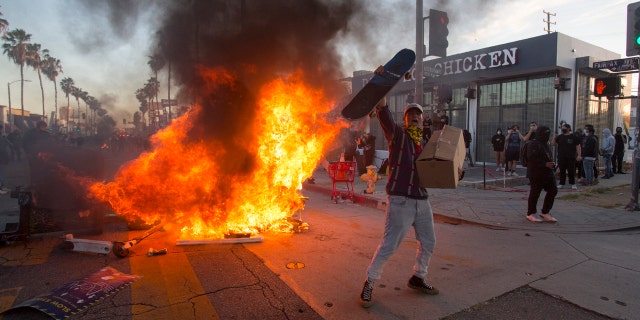 One of the hardest-hit areas was the area around the Grove, a popular high-end outdoor mall west of downtown where hundreds of protesters swarmed the area, showering police with rocks and other objects and vandalizing shops.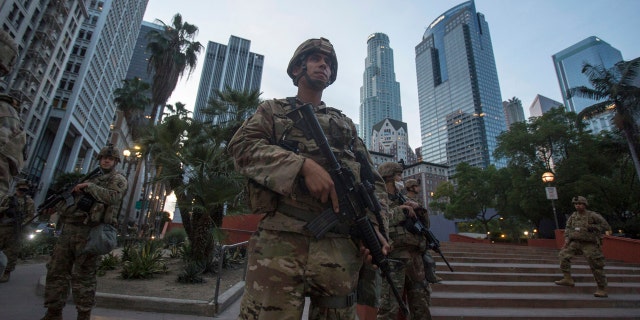 A countywide curfew was in effect Sunday night into Monday morning after another day of violence and destruction throughout parts of Los Angeles city and county, FOX11 reported.
The Los Angeles Police Department estimated there were 398 arrests on Saturday night and Sunday morning related to the police protests.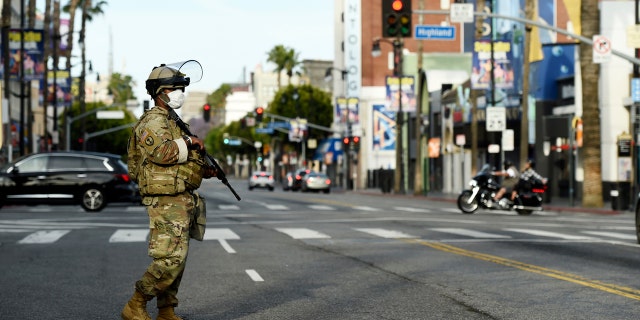 During a press conference Sunday afternoon, LAPD Chief Michel Moore said at least five officers were injured with two being hospitalized. One officer was hit on the head with a brick and suffered a fractured skull but is expected to recover, according to Moore.
The scale of the destruction in Los Angeles was being compared to the 1992 riots when there was more than $1 billion in property damage. There was no estimate of how many businesses suffered damage since protests began Wednesday, but it was clearly extensive.
New York, N.Y.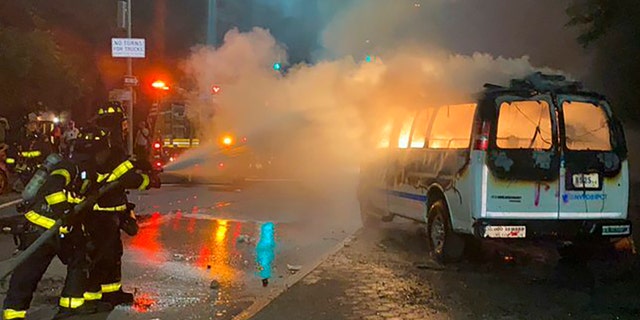 Demonstrators took to New York City streets in protest of Floyd's death and invoked the names of other black people who died at police hands. Street protests have spiraledinto some of the worst unrest the nation's largest city has seen in decades.
Fires burned, windows got smashed and dangerous confrontations between demonstrators and officers flared Friday and Saturday amid crowds of thousands decrying police killings.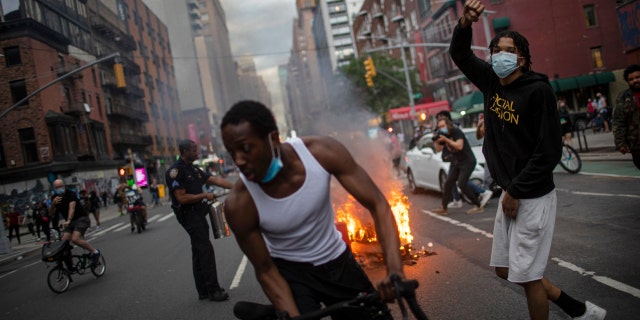 The names of black people killed by police, including Floyd and Eric Garner, killed on Staten Island in 2014, were on signs carried by those in the crowd, and in their chants.
But as day turned into night, a handful of stores in Manhattan had their windows broken and merchandise stolen.
Officers sprayed crowds with chemicals, and video showed two police cruisers lurching into a crowd of demonstrators on a Brooklyn street, knocking several to the ground, after people attacked it with thrown objects, including something on fire. It was unclear whether anyone was hurt.